Primary content
Yoga and practice mindfulness in a wellness paradise retreat.
Naladhu Private Island Maldives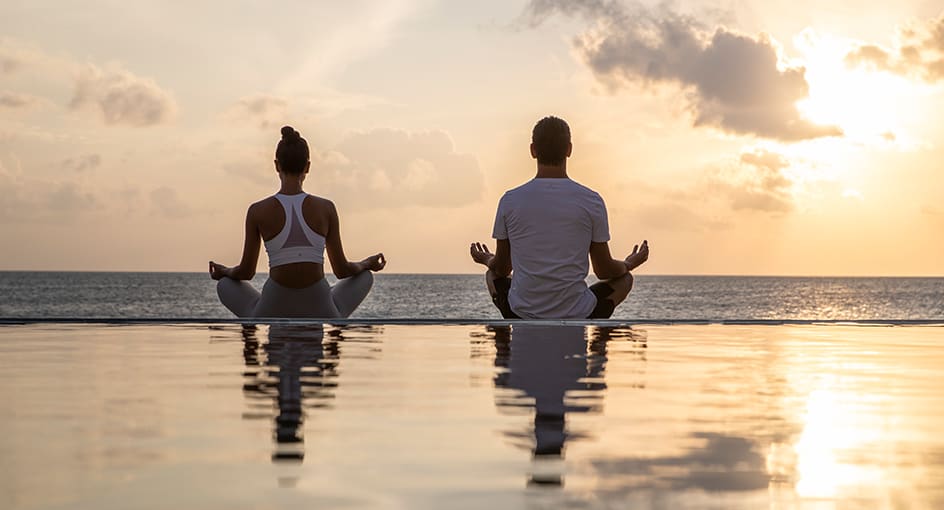 Renowned for its beauty, our secluded Naladhu Private Island Maldives presents guests with a unique opportunity to reconnect mind and body through yoga, all while revelling in 5 star resort luxury. The privacy offered amid the lush beauty of sapphire blue water, pristine white beaches, and the swaying canopy of palm trees provides an unsurpassed environment in which to focus on wellness and holistic meditation.
Choose your time:
Wake up early to perform sunrise salutations along stunning white beaches, and greet the day with positive energy and mindfulness. The privacy of Naladhu Maldives gives you the space and freedom to focus on your mind/body connection in a state of pure, relaxing bliss.
Walking meditations along the beach are a perfect way to explore our island paradise. Enjoy the breeze, feel the sand between your toes, and allow your eyes and mind to soak up the natural beauty of the island and its rich environment.
Feel the fresh, crisp sea breeze and discover why Naladhu Maldives is routinely recognised as one of the best island resorts in the world, as you embark on an inner journey of relaxation and tranquillity. Alternatively, end an action-packed day with an evening yoga session to restore balance and centre yourself. For an even more blissful experience, let us pamper you at our spa resort, or indulge in a glass of well-deserved champagne in the comfort of your resort residence.
Ease your mind:
Breathe in rhythm with the waves and allow yourself to become one with nature, as your worries melt away under the stunning vistas of our private island. Connect with the vastness of the ocean as sweeping panoramas of blue stretch across the horizon. Rejoice in the sheer majesty of the Indian Ocean as you allow yourself space to commune with the power of the water.
Whether a beginner or advanced practitioner, beach yoga offers a unique experience to recalibrate and reinvigorate both body and soul. Join a guided session, and let go of your expectations, as beach yoga is all about the experience. Wellbeing requires little more than mindful presence and focus, so let the outside world slip away and take this time to journey inwards. With every calming breath, you'll find greater peace as the blue ocean stretches to infinity before you.
Feed your body:
Stay hydrated and refreshed with exotic beverages that blend local delicacies with tropical fruits and herbs. Enjoy modern twists on old favourites as our food and drink specialists create custom experiences to enhance your yoga session.
Our fresh and innovative seasonal menus can be enjoyed in the comfort of your Ocean or Beach House, or al fresco along the waterfront. Alternatively, make yourself at home in The Living Room, our sweeping open-air restaurant complete with glass-walled wine cellar. Our wine guru is eager to provide the perfect pairing for your meal, elevating every dining experience to the sublime.
Pamper Yourself:
No luxury vacation would be complete without a bit of pampering. Let our specially trained therapists enhance your wellbeing with techniques to elevate your mind, body, and soul. Treat yourself at our wellness hotel island sanctuary, by enjoying a wide range of options ranging from massage to skincare treatments.
Nutritional guidance and bespoke exercise programmes are readily available to help you make the most of your time here, while our state-of-the-art fitness centre and personal trainers stand by to help you achieve your personal fitness goals. From beach yoga to sailing, diving, or water sports, Naladhu Maldives offers an excellent range of activities for any fitness level.
The journey is the destination:
At Naladhu Maldives, we know that life is a journey – and we're delighted to be a part of yours. From simple relaxation to unforgettable thrills, let us show you why we are one of the top resorts in the Maldives.