Primary content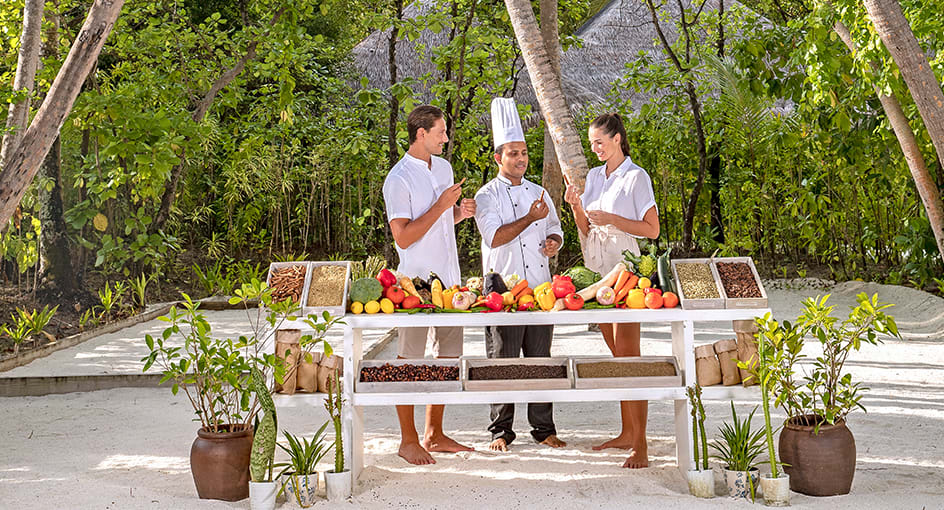 Cooking flavourful creations over water or overlooking the lagoon.
Begin your cooking class in Maldives with a refreshing coconut picked by our Coconut Guru before your eyes. Take a tour of the chef's fragrant herb garden in the heart of the island. Then cook your favourite Maldivian or Thai dish in a step-by-step tutorial adjusted to your preferences and skills.

Savour your creations for lunch and enjoy the option of adding garnishing and table set-up classes. Leave with wonderful memories and impressive new skills to entertain family and friends back home.
ENQUIRE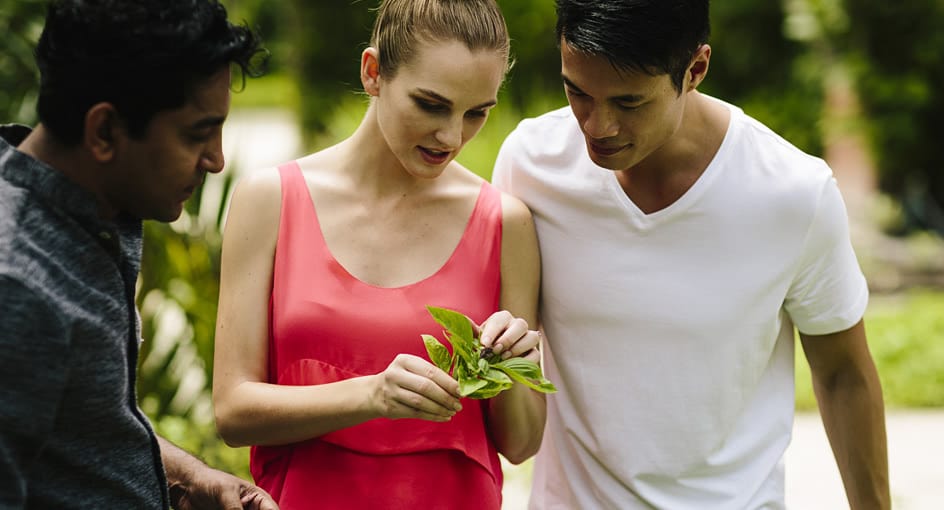 THE EXPERIENCE
All the while, you will be in the expert hands of our Chef Tolga Dagli, whose masterful culinary arrangements represent an irresistible blend of Eastern and Western favourites.
Featured recipes in this cooking class include the regional dish pad thai (fried rice noodles with prawns), as well as the local specialty of Maldivian potato and crab cakes, seasoned with cumin, curry leaves, and ginger. He'll also help you prepare a delightfully sweet Maldivian coconut crème brûlée with the lightest touch of vanilla essence, and garnished with mint and strawberry.
Naturally, you'll be rewarded at the end of the class with the chance to enjoy the fruits of your labour, for a satisfying finish to this journey of cultural discovery.
Cooking, after all, is a deeply cultural experience – a window into the shared home life of an entire people. In the Maldives, we have always lived close to nature, growing up alongside tropical fruits and tangy spices, surrounded in every direction by the wonders of the sea. These very same elements can be found throughout our cuisine, and help shape our wider relationship with the natural world.
Food is also a large part of our regional identity, which is why we've adopted certain dishes from Thailand, India, and other surrounding countries – and then made them our own. In our cooking class, you'll learn more about our featured dishes, including when to serve them, their cultural background, and alternative ways of preparing them, depending on the ingredients you have available in your home country.
By learning these recipes, you can help to keep Maldivian culture alive, and even spread parts of it to your own corner of the world for others to enjoy. Such exchanges are a wonderfully positive way to bring people together, sharing delightful culinary discoveries across our global community.