Primary content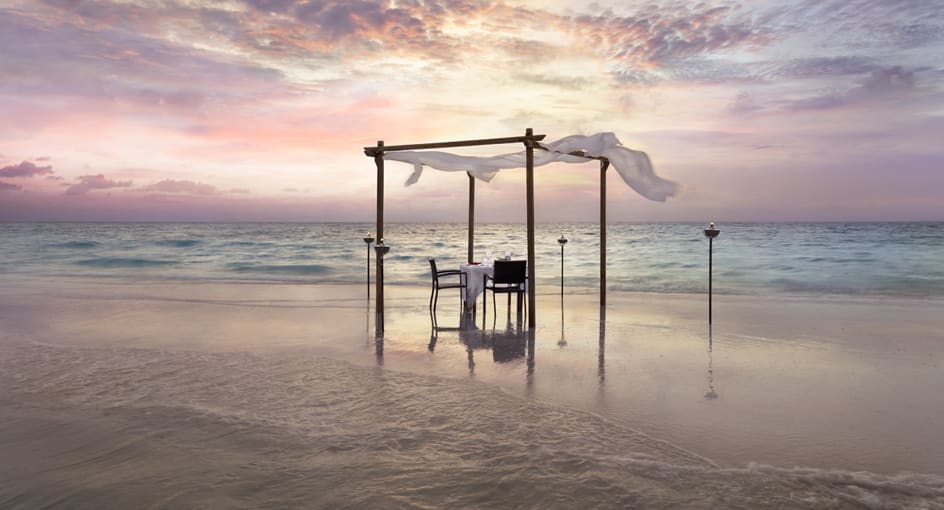 Take romance to a whole new level with intimate dining.
A deserted stretch of beach lit by flame torches. Design the most intimate of dining moments in the Maldives for you and your loved one overlooking the magnificent Indian Ocean.
Indulge in a private island picnic, a candlelit dinner in the midst of a coconut grove, or a cosy evening spent in a beachside cabana. Feast on the freshest of seafood, or let your chef whip up an original menu based on your dietary preferences.
ENQUIRE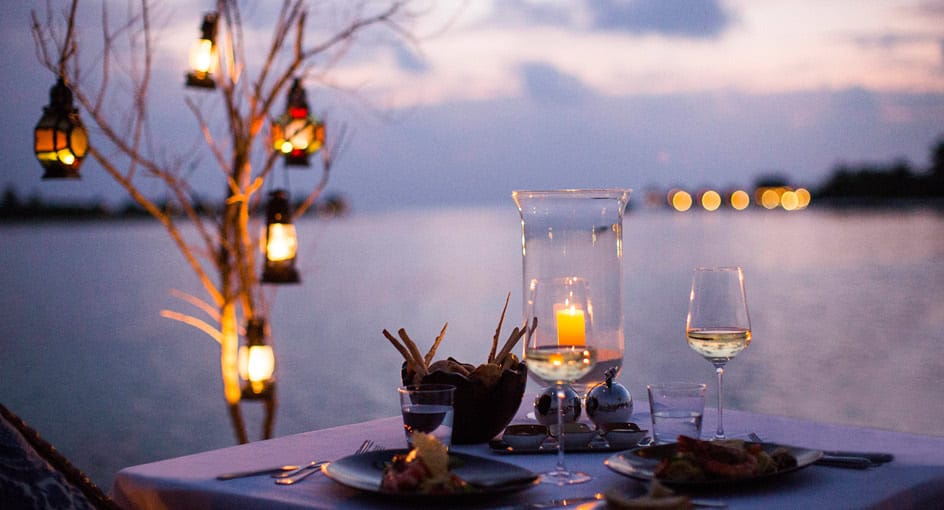 THE EXPERIENCE
The delicate scent of salt water on the breeze. The warm colours of the sunset filling the sky, quickly giving way to cool twilight. The calmness at day's end, given texture by the soft sparkle of starlight. In this natural setting, with light waves lapping nearby and fine sand under your feet, you and your loved one will experience the pure magic of island life at its very best.
This is why you came.
Our private dining services let you capture these memorable moments with your loved one, and extend them through fine cuisine. Whether you prefer a casual midday lunch in our secluded garden, a romantic dinner under the stars, or a fresh, multi-course meal brought to your own resort accommodation, you'll enjoy exclusive service in a specially prepared setting.
Let the outside world fall away as you dine together with refreshing cocktails, wine, or a bottle of champagne. These moments are entirely yours, and free from obligation and distraction – just the way a holiday should be.
So sit back, clear your mind, and rediscover the joy and intimacy of sharing simple comforts with your loved one. By helping you focus only on what is most important, experiences like these go a long way toward bringing the body, mind, and spirit back into balance.
Perhaps most importantly, you'll take away much more than just the experience of a mouthwatering island feast. Much later, when the time comes to step back into your post-holiday routine, you'll also carry with you the memory of such simple but profound pleasures. For all of life's complexity, what we truly value are the basics.
The calm happiness of easy living. The exquisite delight of freshly prepared dishes in a lovely setting. The emotional thrill of connecting deeply with the person you love. As you sit down to a private lunch or dinner, we'll help you re-learn these truths, which are worth remembering long after it's time to go.