Primary content
Go to battle with a sailfish, mahi mahi or giant tuna with a fishing tour.
Enjoy the thrill of making your first catch as you try your hand at either traditional Maldivian line-fishing or classic reel fishing. Out at sea your captain will teach you techniques including jigging, popping, trolling or casting as you wait to reel in your catch. Our guides will help you as you take on this challenging art, a mix of strength and patience, mental and physical endurance, in the battle to catch some of the local delicacies including sailfish, wahoo, tuna, mahi mahi or giant trevally, which if you're lucky, will be cooked up later for dinner.
ENQUIRE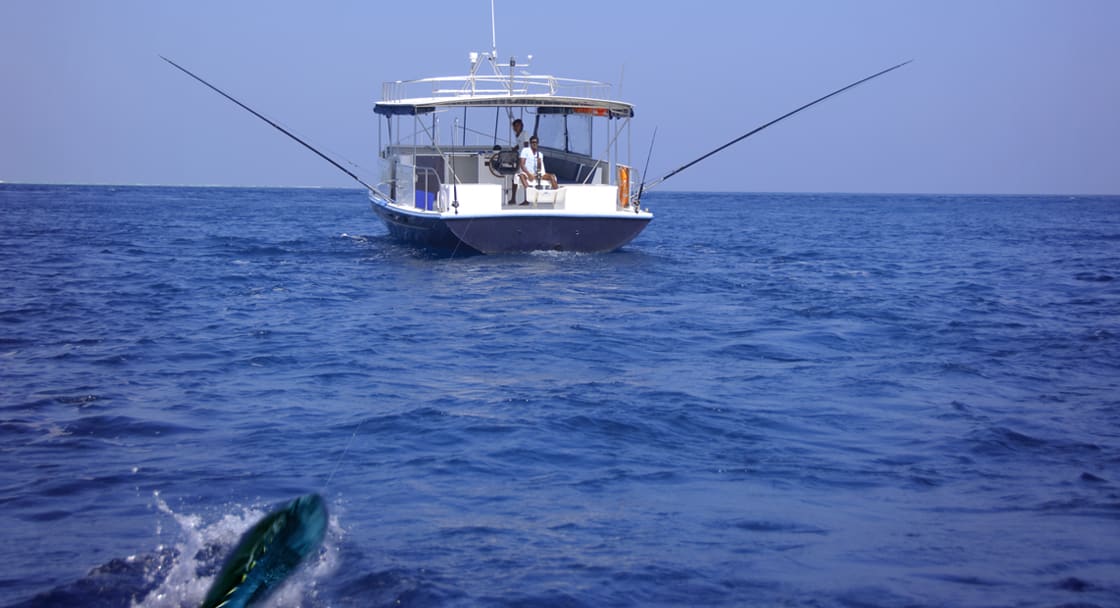 FISHING IN THE MALDIVES
With the clear blue ocean and open horizon stretched out as far as the eye can see, you'll soon experience what countless sailors, seafarers, and explorers have felt since time immemorial: The sense of unlimited freedom within this vast open space, paired with the irresistible draw of the unknown.
Water covers more than 70% of the Earth, with many of its depths remaining unvisited and uncharted. To spend time at sea, whether in calm reflection or in pursuit of the majestic creatures that live beneath the surface, is to glimpse – even if only briefly – the beauty and power that fills this mysterious world.
In the Maldives, the tropical sea is at the heart of our life and culture. It brings plentiful nourishment for our communities, along with a deeper spiritual connection to the world that sustains us. By taking part in one of our scenic fishing trips, you'll get closer to the timeless and authentic lifestyle that unites the Maldivian people in our shared culture.
And if fortune smiles upon you during your adventure, and you are able to reel in a tasty catch, you'll complete the experience upon your return by savouring the seafood dish that our chefs prepare. This timeless cycle of heading out to sea, feeling a bite on your fishing line, sailing home with your reward, and turning this success into your own evening feast, is enough to put a smile on the face of even the most seasoned traveller.
So join us as we venture out beyond the islands. Take a break from everyday living, leave the terrestrial world behind, and spend a few hours engrossed in this purely natural pastime. Whether you've been fishing your entire life, or it's your first time out on the open water, we'll make sure your day out is both satisfying and memorable.