Primary content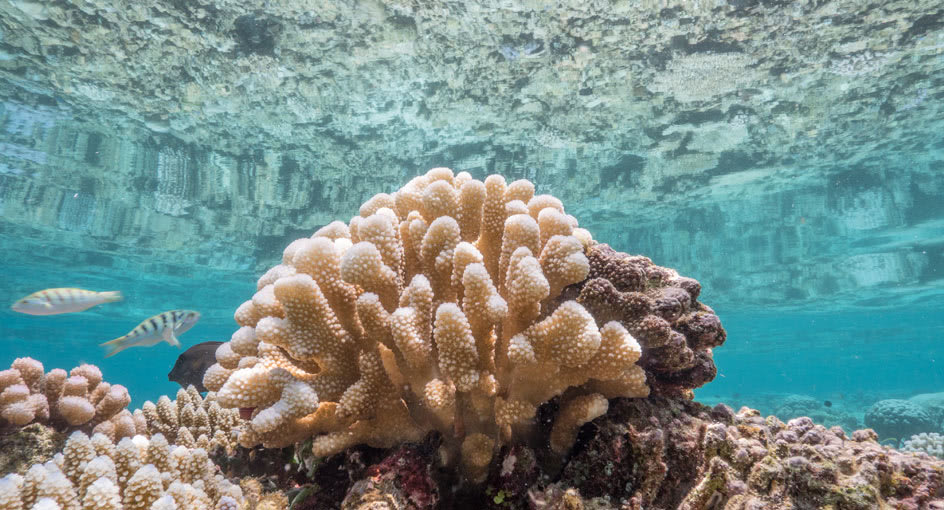 Fall in love with the coral world beneath the waves – and claim a piece of the Maldives for yourself.
The world of coral reefs in Maldives teems with brilliant and rare fish and marine species. For all of its beauty and apparent resilience, coral is a sensitive organism, vulnerable to slight changes in environmental conditions.

Take part in the Coral Adoption Programme by transplanting live corals, with the help of our resident Marine Biologist, into the shallow waters of the lagoon. Return year-after-year to watch them prosper. Help our underwater world bloom.
ENQUIRE
THE EXPERIENCE
At least half of the oxygen in the atmosphere, and likely much more, is produced within the world's oceans. Yet the ecosystems that sustain this process are too often overlooked. Coral, and the vibrant populations of organisms that depend on it, are in an especially precarious position – on the precipice between survival and extinction, but without the concerted preservation efforts that have given a lifeline to many land-based environments.
The health of tropical marine life depends to a large extent on coral-based ecosystems, though much of the world's coral is found in international waters, making it all too easy for governments to avoid taking responsibility. If sustainability efforts continue to neglect undersea life, the future of our oceans will be in doubt – with consequences for us all.
We believe that, as citizens of this planet, the health of our oceans is everyone's responsibility. And here on our island nation, we feel the urgency of this task each and every day. Our food, culture, and the very land we walk on depend on a healthy environment. Land and sea are forever connected.
Put simply, we all have a role in maintaining the fragile balance of life, wherever we come into contact with it. Coral is both a wondrous community of life in itself, and also home to countless species that live in and around it. By participating in our Coral Adoption Programme, you'll make a real, visible difference in the ecosystem that lets islands like ours thrive.
You'll also begin to cultivate a relationship between yourself and the undersea world, helping you keep a healthy perspective on life and sustainability long after you go home. This reminder of the importance of our oceans, and our shared responsibility to care for them, can serve to highlight our own roles – not as masters of this earth, but as stewards of it, preserving its wonders for generations to come.