Primary content
Indulge yourself in pure luxury and seclusion at a 5 star resort.
Naladhu Private Island Maldives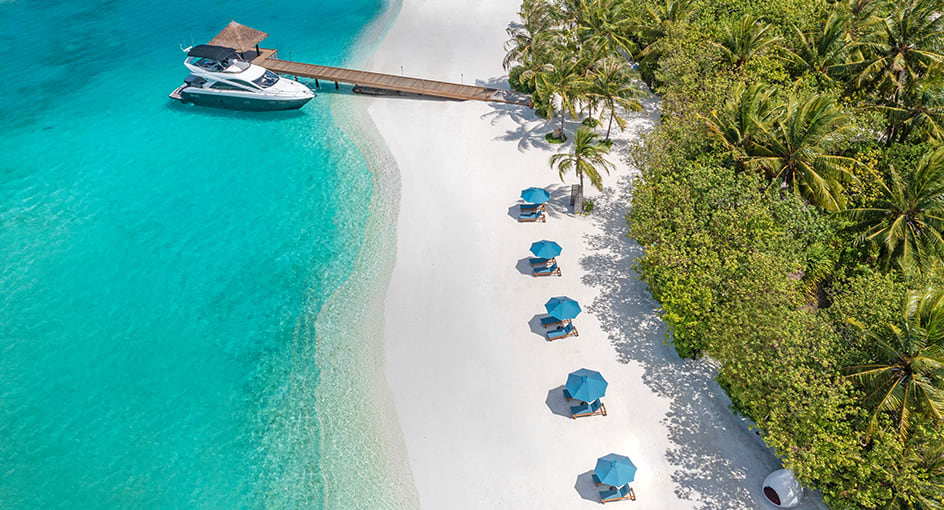 Maldives delivers a unique opportunity to unwind and reconnect with nature, while revelling in 5 star resort bliss. Let our ethos of authentic luxury and curated experiences welcome you to an unforgettable adventure.
Imagine waking up in a luxury resort to pristine crystalline white sand, the stunning sapphire seas of the Indian Ocean, and gently swaying palm trees every morning – all while you create experiences with your loved ones that will last a lifetime. Start each day by indulging in world-class cuisine before embarking on a variety of tropical activities to capture every moment. Reflect on time well-spent, with the sounds of gentle waves lulling you to sleep after every sun-soaked day.
You'll enjoy the invigorating magic of travel and adventure as you relax at our renowned 5 star resort, immersing yourself in the unique lifestyle features only a private island getaway can offer. Beyond the beautiful vistas, let Naladhu Maldives help you create indelible memories as you embark on an inner journey of peace and tranquillity at one of the top private islands in the world.

The Resort:
From yoga on the beach, to pampering yourself at our luxury spa, to surfing or diving at some of the most stunning sites the world has to offer, the freedom to write your own adventure awaits at Naladhu Maldives.
Come see for yourself why we were named the best island resort in the Indian Ocean four years in a row, and one of the 10 Best Resorts in the World, by the Condé Nast Traveler 2021 Readers' Choice Awards. We take these honours seriously and encourage you to immerse yourself in one of the best island vacations in the world. True transcendence is about more than simple luxury, and our talented staff is always on hand to help elevate your experience.

Accommodations:
With your story just waiting to be written, we provide a context of absolute bliss for you to create your own narrative. Combining seclusion with luxury, Naladhu Maldives lets you take a break from the noise of the outside world, and find yourself on an island of comfort. Take in panoramic ocean views on the sun-kissed decks of one of our scenic Ocean Houses, or lounge the day away in the private garden and infinity pool of one of our lovely Beach Houses. The choice is yours.

Experiences:
As one of the top resorts in the Maldives, we offer a host of unique experiences to fill each day. These opportunities range from exploring the world below – with exceptional snorkelling and diving opportunities – to challenging yourself with either traditional Maldivian line-fishing or classic reel fishing expeditions. Experience the exhilaration of your first catch, or test your experience as you try to reel in sailfish, wahoo, tuna, mahi mahi, or giant trevally.
You can also heed the call of the Indian Ocean on a luxury cruise or your own private yacht, letting you discover the deeper secrets of this island sanctuary, explore deserted private island destinations, swim in crystal-clear lagoons, or sip champagne while watching the sunset as you reflect on days well-spent with a true sense of peace and accomplishment.
When hunger strikes, you can gain unique insight and experience into local delicacies through bespoke cooking classes and wine tasting events – or enjoy the fruits of your labour as our culinary experts cook your catch together with other fresh, seasonal cuisine. With our chef's modern twists on old favourites, the opportunity to indulge in bold flavours and unique dining experiences cannot be missed.

The Journey Within:
Allow us to provide you with exceptional service, unique experiences, and the lasting sense of discovering yourself in this tropical paradise. Life is a journey, and we are honoured to be part of yours.