Primary content
Adventure and tranquillity at one of the world's most luxurious private islands.
Naladhu Private Island Maldives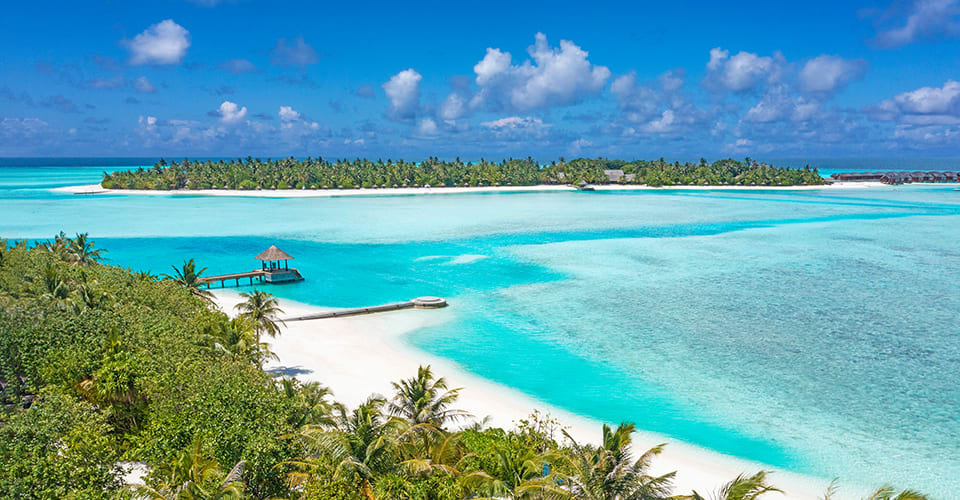 Named the best island resort in the Indian Ocean four years in a row and one of the top 10 Best Resorts in the World by Condé Nast Traveler 2021 Readers' Choice Awards, Naladhu Private Island Maldives prides itself on being one of the best luxury islands in the world.
Grounded in the concept of authentic luxury and driven by our passionate expertise in creating lasting memories, our private island resort will help you unwind and reconnect while you enjoy 5 star resort delights.
Our spacious sanctuary offers 20 elegant and secluded houses for you to choose from, letting you create memories that will last a lifetime.

The Resort:
Naladhu Maldives boasts pristine white beaches, stunning sapphire waters, and a lagoon surrounded by a lush canopy of palm trees. Revel in elegance as you recharge and reconnect at our unique island resort.
Situated in the serene and exclusive South Male Atoll, Naladhu Maldives is uniquely positioned where nature and seclusion combine. Here, you will enjoy exclusive accommodation in a setting like no other. Our luxury resort offers several tailored vacation packages to provide the most unique tropical vacation experiences anywhere.
Let us help you celebrate a family vacation, wedding, or other special occasion in absolute luxury in our Ocean or Beach houses. You and your loved ones will feel completely free to explore the sights, sounds, and cultural experiences – or simply the pure and relaxing bliss of exploring one of the world's most luxurious private islands.

Accommodation:
Bask in the beauty of our Ocean House as you wake up to a spectacular sunrise and enjoy the serenity of stunning ocean panoramas bathed in the cool beauty of early morning views in every direction.
Each Ocean House features a private deck for you to enjoy as you nourish yourself and greet the day. Spend slow days indulging yourself in an oasis of calming energy as you rediscover the deeper meaning of travel. Cool off in your own personal infinity pool as you contemplate a life well-lived, or enjoy the private beach cabana before taking a dip in the lagoon.
Our luxury Beach House, immersed in island hues, provides everything a beach lover could dream of. Absorb the tropical beauty of your own private garden, or cool off in an infinity pool after a day on the white sands. From a personalised wine selection service, to al fresco dining options, our Beach House provides everything you need to enjoy and recharge after leisurely days spent on the water or at the beach.

Experiences:
Local guides and personal storytellers, known locally as "Kuwaanu", ensure that each guest is treated as family as they curate the perfect island escape. Let our guides share indigenous history, knowledge, and viewpoints as you unwind and recharge. We will provide world-class butler services to keep you refreshed, as well as bespoke experiences that will enrich your understanding of island life and culture.
Between excursions, you'll be able to reconnect with yourself, unwind, and relax at our wellness hotel island sanctuary, letting you enhance your wellbeing from the inside out. Our team of therapists are standing by to pamper you at our spa retreat or at your residence, providing comprehensive wellness programmes tailored to your individual needs.
We know recharging often means being active, and we provide a host of experiences to help you indulge your more adventurous side. Explore the world below with snorkelling or diving, challenge yourself with traditional Maldivian line-fishing or classic reel fishing expeditions, or discover the secrets of this island sanctuary while exploring deserted private island destinations with one of our private yachting opportunities.

Enjoy the freedom of pure privacy:
Our secluded Naladhu Maldives resort is designed to provide privacy while offering pure luxury. Whether you're seeking tranquillity or adventure, each guest can choose their ideal holiday, and we strive to provide the best experience possible. Life is a journey, and Naladhu Maldives lets you create lasting memories to carry along with you.